HOW TO ORDER A REPEAT PRESCRIPTION
Order your Repeat Prescription Online
Requests for repeat medication are ideally received electronically or via POD. Due to COVID, paper requests are being phased out. This is to protect you and your family and the Mile Oak Medical Centre team.  
To request your medications, you have several options
1. SystmOnline is available to ALL our registered patients. Once registered, you can order your Repeat Prescriptions online via your home PC or mobile device. 
Please click here for information on how to register.
If you're already registered,  click here to order your repeat prescription.
2. Alternatively you can order your prescriptions from the NHS App, available here
3. or call POD on 08081 647678, Monday to Friday between 8:00 and 16:00. 
Repeat Prescriptions
With the agreement of your GP you can get further supplies of regular medicines without having to be seen by a doctor every time.
Requests must be made in writing to avoid misunderstandings and mistakes. We cannot accept faxed or telephone requests as they may be unclear and result in error. It is best to use the special form which is attached to your prescription and which can be easily reprinted at reception if you mislay it. This form shows all items which are currently authorised. You need to tick the items you require. You do not have to order every item every time, for example if you only take one item occasionally, but please try to order no more than once a month.
Prescriptions are processed in the order they are requested. To allow time for necessary checks to be made we need 2 full working days (48hrs) to issue prescriptions (please note this does NOT include the time for the pharmacy to dispense your items). We suggest you aim for a period of 1 week between putting in your request and collecting your medication, so please order when you have 7-10 days' supply left.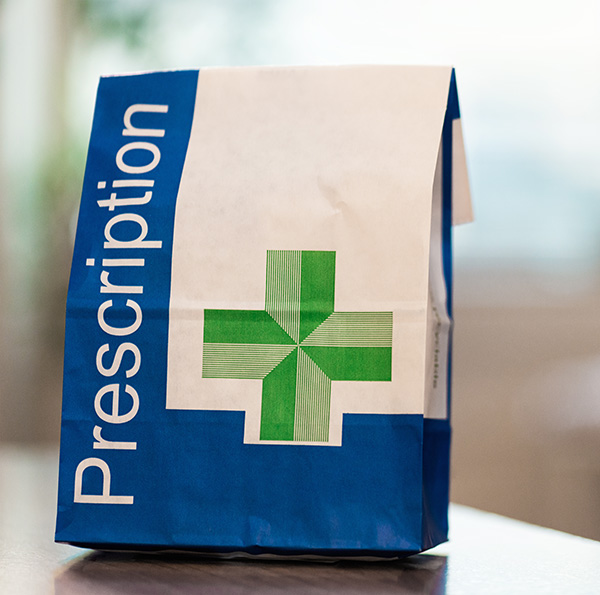 If you need your prescription issued very early or for a longer duration than usual because you are going on holiday, please explain your need in writing on the form. Usually we do not issue prescriptions more than 10 days before they are due.
Several local pharmacies collect prescriptions from us on a daily basis and will then prepare them ready for you to collect at your convenience or, in some cases, will deliver them to you. Ask your pharmacy or our receptionist for details.
If you prefer your prescription posted to you, please enclose a stamped addressed envelope with your request and remember to allow time for the postal service. If you want a prescription for an item which does not appear on your form, please ask the receptionist for advice.
Electronic Prescribing Service
Please also ask our reception team about signing up for the new Electronic Prescribing Service which allows us to send your prescription forms electronically to your nominated, preferred choice of local pharmacist to be made up there and collected at your convenience.
To obtain a repeat prescription of regular medication either :
Take or send your request to the surgery.
Order online via the link at the top of this page
Please remember:
All repeat prescription requests take at least 2 working days.
You may have to come in and see the doctor before the medication is issued, so make sure you order your medication in good time.
Online requests are picked up until 13:00. Any request made after this time will be actioned the following working day. Please leave TWO WORKING days between ordering repeat medication and its collection.
Any medication order placed after 13:00 will be counted as being ordered on the next working day (Monday - Friday) and will be processed accordingly. Medication ordered via the internet after 13:00 on Friday will be processed on Monday morning and will therefore be ready for collection on Wednesday.
We will only issue 2 month's medication at a time. If you have a very special, one off, reason for asking for more than 2 month's supply please provide details as this will have to be approved by your GP.
Repeat prescriptions for HRT or the contraceptive pill will be provided by the nurse after health checks are made. If you run out before you can get an appointment you can order a 1 month emergency supply.
Medication Reviews
Repeat prescriptions are reviewed at least once a year. You may be called in for blood tests or review appointments with the nurse or doctor as part of this process. We now have an on-site pharmacy, which enables a qualified pharmacist to liaise with our staff about your medication and care.